Here Are the Most Important Questions to Ask Your Commercial Cleaner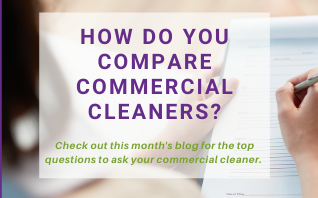 Your business relies on first impressions all of the time: in customer and client meetings, in advertising, and through the quality of the products you offer. One of the most important first impressions you can make is with the quality of your physical space, such as your office, storefront, or waiting areas.

Working with a commercial cleaner is a great way to maintain those physical spaces and provide clean and healthy environments for your employees and customers.
Evaluating your current solution or choosing a new commercial cleaner can be daunting, but here are some of the most important things to consider when choosing your commercial cleaner.
What Cleaning Services Do I Need? Will This Commercial Cleaner Meet Those Needs?
This is arguably the most basic question but also the most important. Knowing what you need to maintain your office space or waiting areas is a prerequisite to knowing whether a commercial cleaner is the right provider for you.
Not all commercial cleaners are the same and understanding the services they provide or specialize in will help you make the best decision for your business.
Does Your Commercial Cleaner Provide a Clearly Defined Scope of Work or Checklist?
They may provide the services you need, but how do you know what you're paying for? How do you guarantee they'll clean exactly what you need? This is where a clearly defined scope of work is handy.

Building a checklist with your provider about what they'll clean daily, weekly, or periodically builds accountability and transparency between you and your commercial cleaning partner.
How Do They Handle Internal Quality Control?
Does your business' cleaning provider perform spot checks? Are the people doing the work in your space full-time employees or contractors? Some of these questions are key things to think about or ask a provider when making this decision.
How Reputable Is the Business?
Is the commercial cleaner you work with transparent about their reviews? Will they give your business references to consider? Researching how a business is viewed by past and current customers is something we do in our personal lives and this crucial step is no different when shopping for a commercial cleaning partner.
Are They Properly Insured?
When it comes to any business relationship, it is important to know whether the other party is properly covered in case an incident arises. Cleaners often move heavy machinery, walk on slippery or wet floors, or have other potential workplace hazards. Looking for a cleaner with full coverage is important to protect yourself should an accident arise.
Do they have a COVID-19 Ready plan?
The reality is that we're still in a pandemic and any commercial cleaner you hire will have to consider pandemic controls as well as normal cleaning. Ask any provider you consider contracting about their COVID-19 prevention plans to keep your employees and customers safe and healthy.


These questions are important and will help your business be prepared when looking for a commercial cleaning solution. To help your business make this decision, we've assembled a worksheet to help you think through the answers.

If this feels overwhelming, our team can help! Contact us at Elite Touch Cleaning Services to walk through some of these questions and a customized cleaning solution for your business.