Are You Ready for Employees to Return to the Office?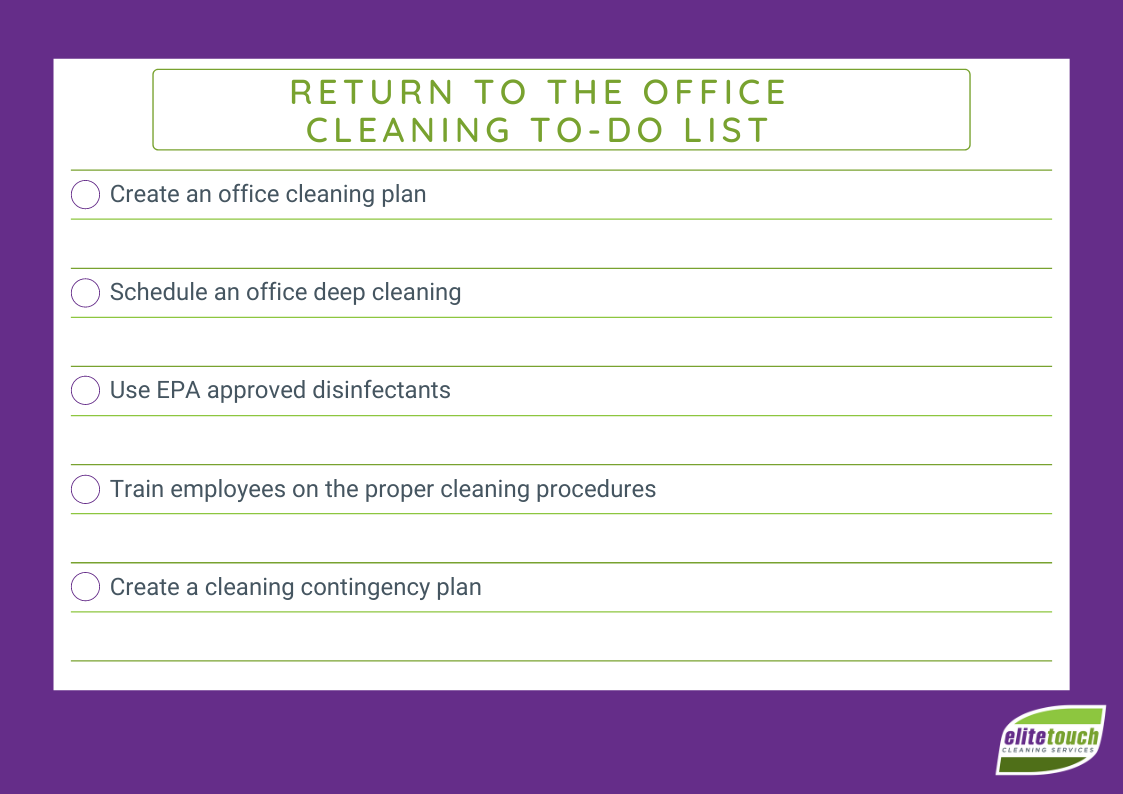 As vaccination rates creep upward and society quickly returns to normal, companies are planning for the return of their employees and customers to their corporate facilities. But COVID-19 variants such as Delta could threaten these plans without proper disinfection and cleaning. If your company is preparing for a return to in-person operations, now is the time to create your plan for workplace health, safety, and cleanliness post re-opening.
While the CDC and OSHA have detailed recommendations for overall health and safety of your employees and customers, here are specific recommendations to maintain a clean commercial office space:
Make an Office Cleaning Plan

Take note of your high traffic areas such as reception areas, bathrooms, and entry/exit doors and make sure to clean them daily.
Clean the heavy traffic touch points daily.
Train any employees tasked with cleaning on how to properly handle all new cleaning procedures and keep a log of activity.

Consider a Deep Clean Prior to Your Re-Opening

Schedule a deep cleaning of the office including disinfection to ensure that your employees return to a clean office space.
The best time to clean spaces which don't regularly get cleaned (such as storage rooms, server rooms, and other low-traffic spaces) is before your employees and customers return!

Use the Correct Cleaning Chemicals and Procedures For Your Space

If you plan to use disinfectants, use those found on the EPA List N to ensure their effectiveness against tough bacteria and viruses such as COVID-19, including the Delta variant.
Train the cleaning staff to use proper protective equipment while cleaning, especially when using harsh or potentially dangerous chemicals.
Elite Touch Cleaning can recommend proper disinfectant products for your commercial space.

Plan for Sickness and Make a Contingency Plan
Hopefully no one in your office gets sick; however, if someone does, it is important to have a cleaning plan to ensure the spread of germs is minimized.
Encourage employees to report positive COVID-19 tests to managers so that they can identify exposures.
Train your staff on how to respond in these situations and ensure a clean and healthy office space for visitors and employees.
If you need help putting together your commercial office cleaning plan, Elite Touch Cleaning Services can help! Our COVID-19 cleaning experts can provide a detailed plan and help with routine office deep cleaning and disinfection services. Get started today!