Office Spring Cleaning: Dust Off Your Spring Checklist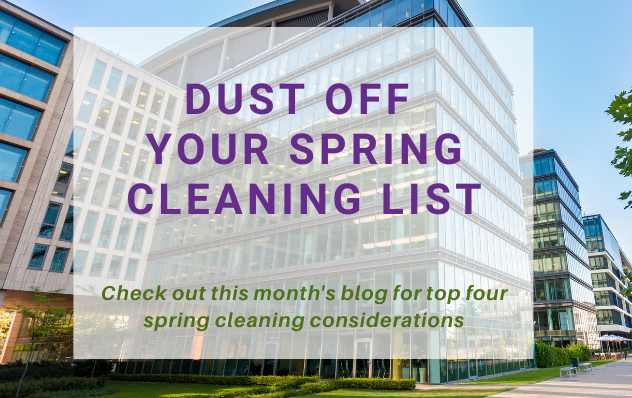 The groundhog may have seen his shadow, but spring will be upon us before we know it… along with a list of office spring cleaning projects that may be difficult to manage on your own.
Here are the top four areas to pay attention to when planning your office spring cleaning strategy.
Pressure Washing: Winter Snows Require Spring Cleaning
Your office building has endured a hard winter with frozen rain and snow; this often leads to salting high traffic areas to keep a safe environment. Salt build up can cause breakdown of building materials and have a negative impact on the look of your building. Routine spring pressure washing will wash build up from winter conditions and leave your office exterior looking as welcoming as the team you have inside.
Window Cleaning: Let the Sun Shine Through
Nobody likes the appearance of a dirty or rundown building. It can seem less approachable and also signal to a customer that a company is poorly operated. Clean and clear windows show that a business takes pride in their appearance and maintains high standards.
Carpet Cleaning: An Office Spring Cleaning Necessity
Winter weather can cause large amounts of debris to be tracked into offices and business lobbies. Whether it be mud or salt from snowy conditions, those stains can be difficult to treat and are tough on carpet health. By hiring a professional, you ensure that carpet imperfections will be properly cleaned to extend carpet life. Clean carpets also promote a healthy, dust-free, environment for customers and employees.
Upper Dusting: Out of Sight, Out of Mind…No More
Areas up near the ceilings and high places in your office that are hard to clean can harbor bacteria, dust and dirt. It's important to make sure you're hitting these areas at least once each season to keep your building in pristine condition. By hiring a professional cleaning company to handle upper dusting, you ensure that hard to reach areas like vents, piping, and light fixtures are safely cleaned and any accumulated debris is removed. Upper dusting not only improves the appearance of your business, but also cuts down on risks such as poor air quality and bacteria spread–which keeps your staff healthy and productive.
Still unsure where to start? Let Elite Touch create a customized spring cleaning plan for you. Get Started Today!