How to Best Spend Time Deep Cleaning Office Space During the Holidays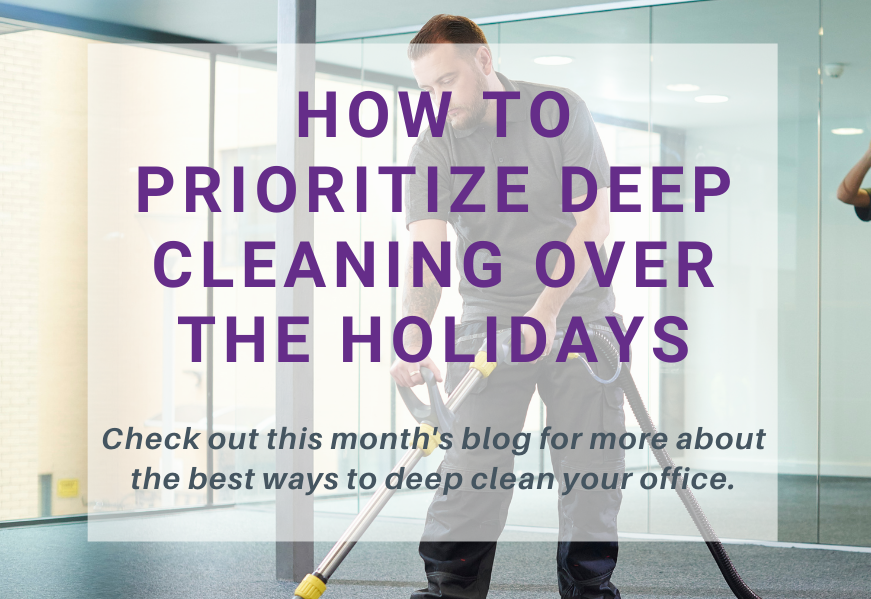 The holidays are a great time to prioritize family and rest. Many businesses take extra time to do just that, giving their employees a chance to recharge and enjoy family. Doing so gives businesses a great opportunity to prep their physical spaces for the new year and ensure that those hard to clean areas of the office get the attention they desperately need. Here are the top five areas to focus while deep cleaning your office space during the holidays.
These first two tips fall in the same category but are equally important. Floor care is hard to do completely when employees are working or customers are visiting your spaces.
Carpet Cleaning
If you think about what it takes to deep clean carpets at home, it's a similar process in an office space. Moving furniture, allowing detergents to set or scotchgard to dry and moving around the furniture takes time and space when completing a deep cleaning.
Fewer people and less foot traffic gives commercial cleaners an opportunity to help your office carpets live longer and look as good as new.
Floor Stripping and Waxing
In the same way that carpet shampooing and deep cleaning needs time and space, hard surface flooring is best serviced when there's minimal foot traffic. Hard surface floors that need to be waxed should be prioritized during quiet office periods.

The general rule of thumb for hard surface floors is to get them waxed every 12 to 18 months, though it can be more or less frequent depending on your flooring or your needs. The holidays are a great time to complete this aspect of deep cleaning your office space.

Professional cleaners work quickly and diligently to minimize the disruption to your business but set yourself up for success by leveraging these periods of downtime.
Upper Dusting (AKA Dusting those Hard to Reach Spots)
When everyone is in the office or traffic is heavy through your common areas, it can be hard to bring out the ladder and dust light fixtures or architectural features that are hard to reach. This is the perfect time of year to create and complete a dusting to-do list with those places that don't get cleaned as often as you'd like.

Areas that look like they belong in a museum or that could make an allergy pill commercial cry are a great candidate for end of year dust-busting. It's important to reduce dust for the health and cleanliness of your office and now is the best time to prioritize those challenging, hard-to-reach locations.
Deep Clean The Break Room and High Traffic Areas
Often when doing daily cleaning or wipe downs, the break room cabinets and drawers can get skipped over. The holiday downtime is a great opportunity to clean cabinet interiors, refrigerators and supply rooms. Work with a professional cleaner to make a plan to disinfect and clean surfaces that don't usually get more than sporadic wipe down by your employees to ensure a clean office space in the new year.
Tackle Those Stale Spaces
Now is the best time to refresh office spaces that you've been wanting to update or improve. This may look different depending on the organization's needs, but there's no better time than when most employees are away for the holidays to tackle bigger cleaning projects or updates.

Organizing the communal kitchen or clearing out old files that are collecting dust is a small way to do this. On a larger scale, this might also include re-arranging furniture, cleaning upholstery, or working with your maintenance crew to make small repairs.

No matter what your office looks like now, it's important to start the new year with a space that matches ambitions for 2022. Doing this work may seem overwhelming but we're here to help with your cleaning needs. Contact Elite Touch Cleaning Services today to determine a deep cleaning plan for your office space.